Strollers are designed for every weather and any time of the day. From providing long sun shades fighting hot summers to providing a warm and cozy environment in snow and cold winter. The best strollers are considered those fulfilling all the needs and provide extra features for the relief of its users. After seing different strollers these are my favorite features.
To protect your baby from harsh icy winds and snow, stroller coats are available often lined with fleece from the inside. They provide a nice, warm environment inside the stroller blocking all the cold. The stroller Footmuff can be used in collaboration with a car seat and can also be used separately to work as a blanket. It is provided with an inner lining of special fabric to keep the baby warm. The exterior is water repellent. The stroller hand muff remains perpetually attached to the stroller handle for the comfort and ease.
The arctic Footmuff is facilitated through the use of zip system. It provides ease and comfort of usage because of its zip lock and off system.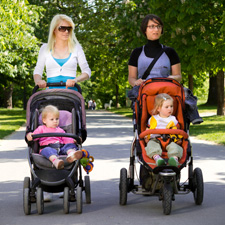 All year Footmuff strollers are also available in the market. They make use of special sheepskin which acts as a dual enabler. It keeps the baby warm during winters and during summers the baby is kept cool and dry because of its repellent skin. The expandable Footmuff as the name suggests, is adjustable and designed to be used by comparatively older kids. It caters to the needs of growing age children and adapts itself with the growth of the baby. Some strollers are also provided with balanced cup holders to facilitate the parents during cold winters. In this way during long shopping hours they can enjoy a hot cup of coffee along with the transportation of the baby. Strollers with irregular terrain wheels ensure its smooth, uninterrupted flow even on uneven and snowy base. To cope with mild winter stroller blankets are available that comes with 5 point adjustable strap system and an additional foot pocket holder for its comfortable usage. Certain strollers are pricy, but come in complete packages to fight the cruel winters. They include all the additional features of insulation, zip locking and storm cover.